Private equipped dungeon in Swansea, South Wales - easily accessible from Cardiff, Newport, the South Wales Valleys, Gloucestershire & Avon.




Regular tours to London, Birmingham & Rome.
CLIPS 4 ITALIAN PRODUCERS
Below are videos in which I have featured and are the exclusive content of NeraVideo. The producer is my one and only darling Giada Da Vinci (aka Mistress Era) and the films can be purchased by following the links through to her website.
Today is the slave's birthday and he decides to meet two Mistresses, Domina Jemma and Mistress Era, to celebrate, to be deflowered and to remember this moment forever. The slave is so excited, he wants to do it but he's afraid of failure, so the Mistresses tie him to a sawhorse and they start to abuse him.
Domina Jemma wants to see how deep his throat is and repeatedly rams her strap-on down the slave's throat to suffocate him. Era enjoys this moment and the ass fucking in particular as strap-on is her favourite activity! The slave succeeds in taking three different sized dicks deep in his ass, and is rewarded with a hard milking.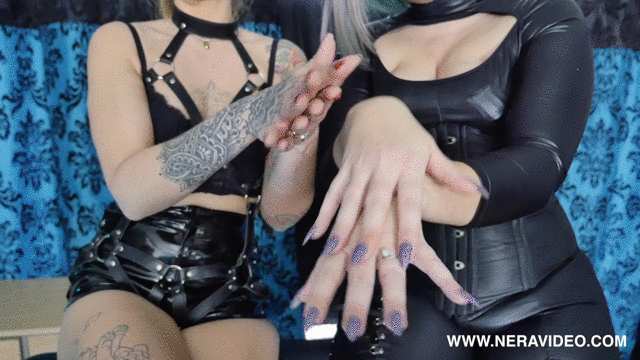 Domina Jemma and Mistress Nikky French have just got their manicure done and they show them off to the slave because they're both satisfied with the result. The slave watches the two wonderful Mistresses that keep on stimulating her attention waving their beautiful hands in front of her face and making her fantasise... At the end they call her for some worship and they allow her to kiss their hands, but the slave doesn't know that the two Mistresses are making fun of her and that they will use their hands for other sadistic games: suffocation and deep throat penetration! The two Mistresses couldn't resist having some fun with their faithful slave after boring hours at the beauty salon.
White Sock Foot Job
This is a foot fetish film I did in collaboration with the Italian production team "Solletilegando" . Although the video is in Italian language the idea is simple enough to follow! A wife returns home from the gym to find the hubby naked in bed, and so she starts to tease him by displaying her new gym shoes and socks! Perfect for fans of sportive foot wear! You can watch the trailer here below or visit their clips4sale store to purchase:
www.clips4sale.com/14750